I t might sound a bit cliché but it's a fact that we are the only garden center in the area where all Christmas decorations are fresh and alive!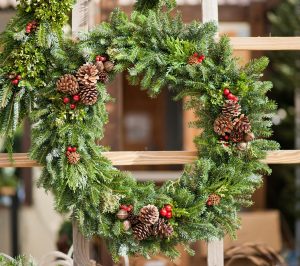 We start taking orders for our beautiful, hand crafted Leyland-based wreaths with clumped Fraser fir, berried Juniper, Boxwood and Incense Cedar in November; each wreath is hand spun and decorated the day before the specified customer pick up date. This has been a family tradition passed on for over 50 years and is very well fitted for this colonial town. Our 24 inch door size is by far the most popular, but we also make larger sizes for wider doors, barn gables and businesses.
We didn't stop there – we also offer mantle swags made with a mixture of fresh greens, table center pieces with or without candles and the newest product, our front porch festive planters that we can confidently say will stay fresh for 2 months after Christmas. Our experienced staff make these by arranging a tasteful selection of Cypress, Juniper, Fraser and Noble Fir boughs in soaked floral foam and you can choose to go with 'just the greens' or have it decorated.
Feel like making your own? We have a nice selection of fresh bundled greenery, boughs and bows you can choose from. We also have the traditional Pine Rope Garland available in 25, 50 and 75 ft. lengths!