Family Owned.
Family Grown.

KNOWLEDGEABLE STAFF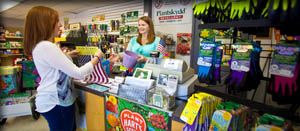 Do you need help selecting a plant for a specific part of your yard, or maybe help selecting those colorful annuals for your summer containers? How about some help determining a pest problem and the best solution? Or advice about amending your soil? Whatever it may be, our staff is here to help you!
Are you looking for something special to grace the entryway of your home? Perhaps some hanging baskets that will set your house apart from the others? Or maybe a bright container to add some interest to a corner on your deck or patio?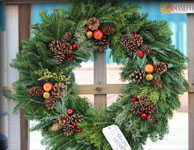 Whatever it may be, our experts will provide you with all the know-how.  We know which plants work best in this climate and which plants are suited for that sunny spot on your deck versus that shady area on your covered porch. We are ready to work with you to make that perfect container or basket.
Homestead Garden Center is Williamsburg's favorite place to find beautiful wreaths and holiday decor hand-created from live evergreens! There's nothing like the scent of fresh fir, juniper, cedar and pine at Christmas time!

GARDEN SUPPLIES
Homestead Garden Center has a wide variety of garden supplies, including plant seeds, pots, potting soil, organic fertilizers, disease and pest control products, gardening tools, clothing and equipment, garden-themed gifts and decor, birdseed and feeders, and much more!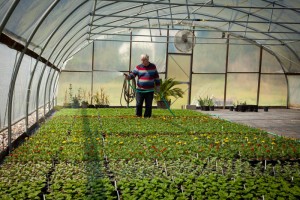 HOMEGROWN!
The Patton family can proudly say that 60% of the spring annuals, nearly 100% of the fall annuals, and 20% of the perennials, trees and shrubs they sell are grown in our own greenhouses right here in our community! You can be assured of healthy, robust plants, each of which has been carefully raised, and worthy of your garden!
SERVICES
Custom Planted Containers
Want some instant beauty for any spot around your home? Got a party, wedding or special event coming up and need some instant beauty and color around the home? We not only will help you select plants for your containers, we can put them together for you! A real time-saver. Ready-made, pre-planted containers for those on the go!  Stop by every season to see our beautiful selection!

Gift Cards
A gift card to Homestead Garden Center is a great idea for your gardener friend on any occassion! Purchase in-store or contact us today to have it mailed to their address.
Delivery Service
You have just purchased that beautiful tree, but have no clue how to get it home?  Homestead Garden Center offers  inexpensive delivery to all of Williamsburg, York, James City & New Kent Counties.  We also offer same-week shipment.